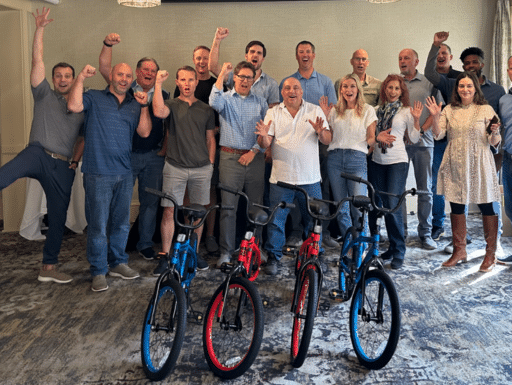 Equity Residential organized a Build-A-Bike® team building event in Boulder, CO. Wrapping up a three-day conference, the team assembled bicycles later donated to the "I Have A Dream" Foundation. The event, initially met with skepticism, turned into an engaging experience that showcased creativity, camaraderie, and community involvement.
Equity Residential operates approximately 78,000 apartments in key urban and high-density suburban locations across the United States. With around 2,600 employees, Equity is committed to creating communities where people thrive. Their approach is rooted in values such as diversity, inclusion, social responsibility, and total well-being. They are included in the S&P 500 and focus their operations in cities like Boston, New York, Washington D.C., Southern California, San Francisco, Seattle, and Denver.
Equity Residential Brings Teams Together with Build-A-Bike® in Boulder, Colorado
Hosted on the final day of Equity Residential's three-day conference, the Build-A-Bike® event proved to be more than just a fun activity. Initially skeptical, team members found themselves drawn into the event's spirit. They eventually came "out of their shells" and were far more engaged and creative than initially expected. By the end, people were crafting creative team cheers, collaborating seamlessly, and displaying a remarkable sense of camaraderie.
The Build-A-Bike® event was more than just team-building; it was also a charitable endeavor. The team donated each completed bicycle to the "I Have A Dream" Foundation of Boulder County. This charity aims to empower children from low-income communities to succeed in school, college, and career. Equity Residential's participation in this charitable event was an extension of its corporate values, especially social responsibility and community well-being.
We extend our heartfelt thanks to Equity Residential for their generous bicycle donations to the "I Have A Dream" Foundation of Boulder County. Your contribution will undoubtedly make a significant impact on the lives of children in the community.
Inspired by the transformation that a single team-building event can bring? Consider hosting a Build-A-Bike® event in Boulder, CO for your team and make a lasting impact on your community.