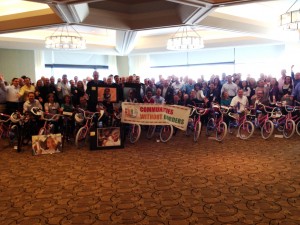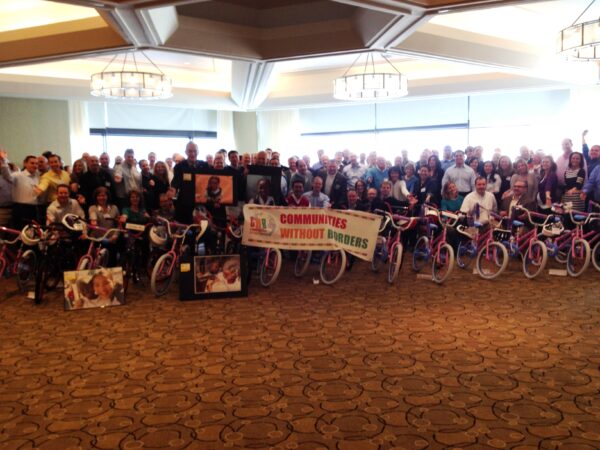 The Wright Express Corporation chose to experience a Build-A-Bike® Team Building Workshop for the first time ever in their company's history.  For an entire week, the Wright Express group called in their complete sales team from all over the U.S. as well as International representatives in order to communicate and share best practices within the group.  To kick-off the meeting, the planning committee called upon The Leader's Institute® to execute a high energy, fun team building exercise.  The company headquarters are in New Hampshire, but the event took place in Downtown Boston at the Westin – Copley Place.  On a frigid day, the Wright Express Team reserved the entire meeting room floor of the Westin to accommodate the 160 people they had on hand.
With a rather sizable audience, the group was randomly broken up into 24 teams.  One of the activities which is part of the Build-A-Bike workshop is the Cheer Contest.  This is where the teams get their first assignment to collaborate within their groups and create a high energy presentation or cheer in front of the entire audience.  In one of the most comical displays, the groups one by one put together highly innovative and enthusiastic cheers.  Typically, teams do not root for each other, however, the Wright Express group were so invested in the success of the other teams that they started cheering for everyone who came up.  By the end of it, the deafening sound of cheers created an unforgettable moment for everyone in attendance.  This infectious energy level stayed amazingly high throughout the remainder of the workshop and the bikes were built in record time, with many of the faster teams assisting the slower teams once they were done.
In a fitting twist, this unique group donated the 24 bicycles the highly creative Communities Without Borders organization.  This organization works to support the education of 1,500 AIDS orphans in Zambia.  We found a unique opportunity to fill a need that we never knew existed.  When the children pass their exams and go on to secondary school, they often have to walk many miles to get to their school.  The donation of these bicycles was very much welcomed by the organization!  For the first time ever, the bicycles put together in a Build-A-Bike Workshop would be benefiting children outside of the U.S.  The donated children bikes will make school much more possible for these kids across the Atlantic Ocean.  This workshop was a prime example of how a Philanthropic Team Building Workshop manages to be a truly Win-Win-Win solution!
| | |
| --- | --- |
| | Mitesh Kapadia is the Regional Instructor for the Northeast region. He is based in New York City, but he also teaches in Newark, New Jersey, Philadelphia, and all New England Cities including Boston, Providence and Hartford. |
Interested in a Team Building Event of Your Own?