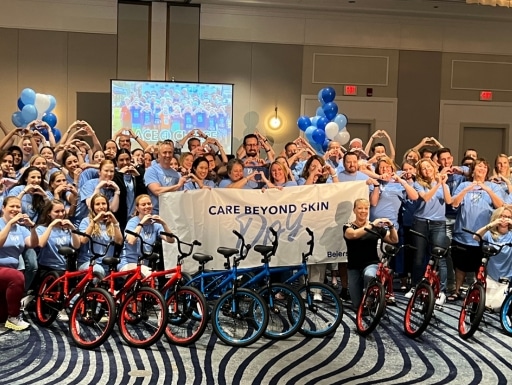 Beiersdorf AG, a multinational personal-care product manufacturer, gathered for a Build-A-Bike® charity event in Old Greenwich, CT. Comprised of both back office staff and sales teams, the event demonstrated Beiersdorf's commitment to "Care Beyond Skin Day." In the end, the donated bikes went to the CMAK Foundation. A representative from the charity was in attendance to give a moving presentation.
Headquartered in Hamburg, Germany, Beiersdorf AG is a global leader in personal care products and pressure-sensitive adhesives. With world-renowned brands like Elastoplast, Eucerin, Labello, La Prairie, Nivea, Tesa SE, and Coppertone, Beiersdorf has cemented its status in the personal-care industry.
Beiersdorf AG Unites for Build-A-Bike® Event in Old Greenwich, Connecticut
The Build-A-Bike® event brought together 100 Beiersdorf employees from different divisions of the company. The event was part of the company's "Care Beyond Skin Day" initiative, with the first half involving the back office staff, followed by the sales team. This mix of employees fostered a fun-filled and dynamic atmosphere, leading to a successful day of team-building.
The day was also significant due to its association with the CMAK Foundation. This charity was created in memory of Chase Kowalski, a 6-year-old tragically killed in the Sandy Hook Elementary School shooting. Chase loved to run and ride bicycles, so the Build-A-Bike® event organized in his honor was fitting. Beiersdorf's event had a profound impact, marked by a moving slideshow about Chase, leaving no dry eyes in the room. The CMAK Foundation works to turn tragedies into triumphs, supporting children in participating in triathlons and other activities, much like the event's theme.
We extend our sincere thanks to Beiersdorf AG for their enthusiastic participation in the Build-A-Bike® event. We also greatly appreciate the CMAK Foundation's remarkable work in the community and their valuable collaboration for this event.
Planning a team-building event in Connecticut? Let's turn your company gathering into a meaningful experience with one of our charity team building games!