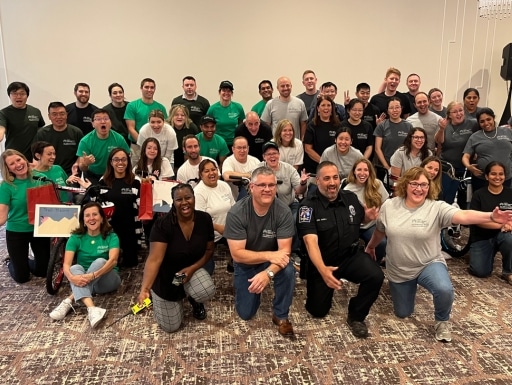 Berkley Small Business Solutions participated in a Build-A-Bike® team building event in West Hartford, CT. The event was part of a three-day meeting and aimed to foster teamwork while giving back to the local community. Not only that, but the charity of choice, The West Hartford Police Department, brought twenty college interns. In the end, both the Berkley team and the WHPD interns worked together to build bikes for charity.
Established in 2021, Berkley Small Business Solutions strives to provide data-driven, efficient, and user-friendly experiences for those seeking commercial insurance coverage. The company prides itself on its diverse team of passionate, goal-oriented professionals dedicated to catering to a broad array of small business needs. Their motto is simple: protecting your business is our business.
Berkley Small Business Solutions: Building Bikes and Bridges in West Hartford, Connecticut
The Build-A-Bike® event was more than just a team-building exercise for Berkley Small Business Solutions. It served as a platform for their staff to engage, connect, and showcase their dedication to serving the community. As a part of their three-day meeting, the event offered a unique opportunity for the entire team to collaborate and contribute to a cause that's close to their hearts.
Additionally, this event demonstrated the West Hartford Police Department's commitment to community partnership. They seized this opportunity not just to engage with the community, but also to educate and inspire their 20 college interns. The police department's active participation, led by a social worker, highlighted their focus on providing community support beyond traditional policing.
We extend our heartfelt gratitude to Berkley Small Business Solutions for their remarkable efforts in helping the community through this event. We also express our appreciation to the West Hartford Police Department for their active participation and valuable contribution to community development.
Got a team that deserves a fun team building event? Check out our full list of charity team building games in West Hartford, CT!