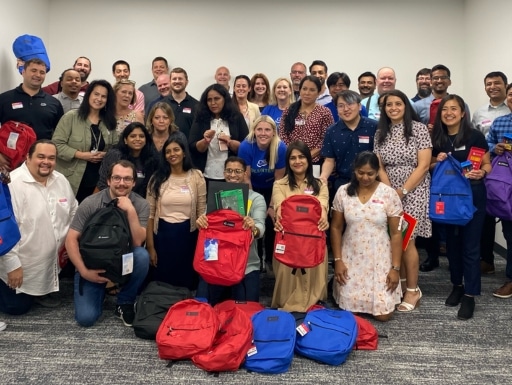 CHS Inc. recently conducted an Amazing Builders team building event at their Minneapolis, MN training center. Committed to creating connections that empower agriculture, the company used this event to foster team cohesion and contribute positively to their community. The event culminated in a significant contribution to the local Boys and Girls Club.
CHS Inc. is a globally diversified agribusiness cooperative owned by farmers and local cooperatives across the United States. With a global presence and more than 10,000 dedicated employees, CHS Inc. works with a singular purpose of empowering agriculture. They drive sustainable growth for their owners and customers through a robust, efficient supply chain, access to international markets, and exceptional products and services.
CHS Inc. Fosters Team Building through Creative Challenges in Minneapolis, MN
The Amazing Builders event was a creative and unique team-building exercise aimed at strengthening camaraderie among the CHS Inc. team. This interactive and engaging event featured numerous challenges. In this case, challenges designed to test the participants' problem-solving skills and their ability to collaborate effectively. The team embraced the challenges with enthusiasm, demonstrating their commitment to the core values of CHS Inc.
The highlight of the event was the participants' collective effort in building something extraordinary, reflecting the spirit of CHS Inc.'s mission of empowering agriculture. Their dedication, enthusiasm, and teamwork resulted in a successful event. Additionally, it created a significant contribution to the local Boys and Girls Club, embodying CHS Inc.'s commitment to community service and social responsibility.
All in all, we give a big thanks to CHS Inc. for their participation. Their collaboration and commitment to community service is inspiring. The positive impact made on the Boys and Girls Club underscores the importance of corporate social responsibility and reinforces CHS Inc.'s standing as a leader in its field.
Want to do something a little different at your training center this time? Check out our full list of team building games in Minneapolis, MN!