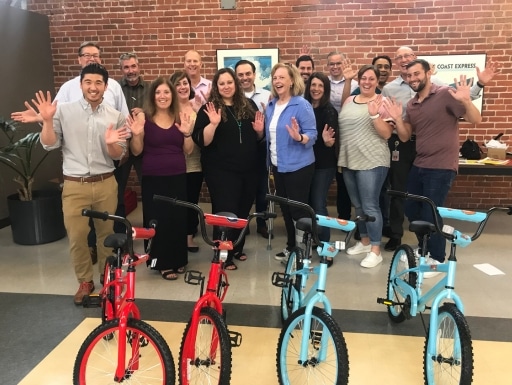 Broadridge Financial Solutions, a global fintech leader, attended a transformative Build-A-Bike® team building activity in Kansas City, Missouri. The company combined an exciting team-building experience with an impactful donation to the local charity, Operation Breakthrough.
Broadridge, with $5 billion in revenues, is a global fintech leader that empowers its clients to surmount today's challenges and capitalize on future opportunities. Their comprehensive suite of communications, technology, and data and analytics solutions are key drivers in transforming their clients' businesses. Broadridge has earned a solid reputation as a trusted partner amongst leading companies and financial institutions worldwide, processing millions of trades daily involving trillions of dollars, managing essential communications for over 5,000 brands, and overseeing shareholder voting in 90 countries.
Fintech Company Initiates Build-A-Bike® Event in Kansas City, MO
Broadridge Financial Solutions showcased their commitment to both team unity and community engagement through a dynamic Build-A-Bike® event. The event, held at Broadridge's Kansas City, Missouri office, served as a platform for employees to strengthen their collaborative skills and contribute positively to the community. Broadridge used this occasion to support Operation Breakthrough, a local charity dedicated to supporting those in need.
We wish to extend our sincere thanks to Broadridge Financial Solutions. Their enthusiastic participation and support of Operation Breakthrough is no small contribution! Additionally, our appreciation also goes out to Operation Breakthrough for their vital work in the Kansas City community.
Interested in strengthening your team's bond while also contributing to the community in Kansas City, Missouri? Contact us today to customize your own charity team building event in Kansas City, MO!