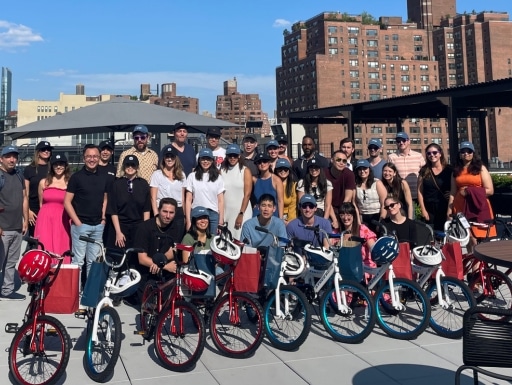 Hinge hosted a lively and impactful Build-A-Bike® team building activity in New York, New York. The event, held as part of Managers Day, combined engaging team-building activities with a generous contribution to the Variety Boys and Girls Club.
Hinge is on a mission to revolutionize the dating app scene by creating an environment that fosters genuine connections. In this digital world, individuals often focus on sending likes and scrolling through profiles. Consequently, Hinge has introduced an app that prioritizes meaningful conversations over traditional gaming or timer elements. Evidently, their approach is resonating with users, as demonstrated by their rapid growth across the US, UK, Canada, and Australia in 2019 and 2020.
Hinge Organizes Engaging Build-A-Bike® Event in New York, New York
Hinge organized a Build-A-Bike® event as a central feature of their Managers Day celebrations. With 70 of their managers participating, the event was held on the company's rooftop. As a result, the team enjoyed a sun-soaked atmosphere that fostered fun and camaraderie among the participants.
In the spirit of giving, the Build-A-Bike® event culminated in a contribution to the Variety Boys and Girls Club. This local charity is dedicated to enriching the lives of children in the community. And thanks to the Hinge team's willingness to collaborate, they were able to give the charity a set of brand new bikes.
Our deepest thanks go to Hinge for their enthusiastic participation. Additionally, we also express our gratitude to the Variety Boys and Girls Club. Thank you for your ongoing dedication to making a positive impact in the community!
Have a team of managers that deserve a celebration? Consider adding one of our team building activities in New York, New York to your schedule.