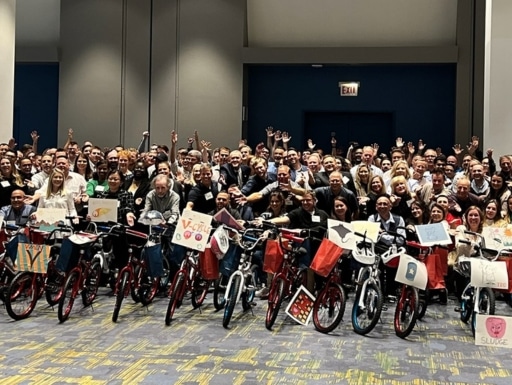 Veolia, a global leader in ecological transformation, recently attended a Build-A-Bike® team building event in Chicago, IL. Attended by 200 engineers and salespeople, the event aimed at fostering cooperation and engagement within the team. At the same time, the group wanted to give back to the community.
Veolia Group stands as a pivotal company for ecological transformation across the globe. In total, they employ 220,000 dedicated to developing sustainable solutions for water, waste, and energy management. In 2021, Veolia supplied drinking water to 79 million people, wastewater service to 61 million people, produced almost 48 million megawatt hours of energy, and treated 48 million metric tons of waste. The organization's commitment to resource preservation and renewal underscores its role as a catalyst for global change.
Veolia Employees Rally for Build-A-Bike® Event in Chicago, Illinois
The team decided to hold the Build-A-Bike® event at the Hyatt Regency McCormick Place. The event provided an interactive platform for Veolia's engineers and salespeople to unite for a common goal. This event not only strengthened the professional bonds among the employees but also allowed them to contribute positively towards a community cause. The setting offered a blend of collaborative work and playful competition, enhancing overall team dynamics.
At the heart of the event was the endeavor to make a significant social impact. By assembling bicycles, the teams were directly contributing to the Union League Boys and Girls Clubs (BGC), reinforcing Veolia's commitment to community service. The spirit of competition was paired with the altruistic cause, making the event not just a team-building exercise but a meaningful contribution to the lives of local children.
We would like to extend our heartfelt thanks to Veolia for their participation and generous donation to Union League BGC. This invaluable contribution makes a real difference in supporting the community and providing resources for children in need.
Looking to build your team while contributing to a noble cause? Connect with us for an engaging and fulfilling team-building event in Chicago, IL!