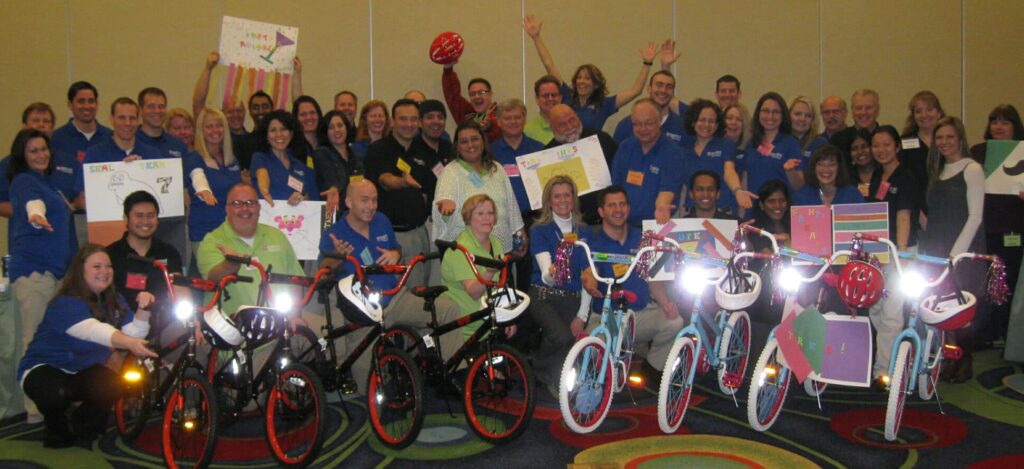 Heartland Payment Systems of Plano, Texas, just outside of Dallas, hosted the Build-A-Bike ® program at The Cascades Event Center in The Colony, Texas. This was their inaugural Product Integration Summit. The theme this year was "Knowing Your Customers".
In 1997 Heartland Payment Systems opened its doors with a modest plan. They wanted to provide fair, honest, and fully disclosed payment solutions to help businesses prosper. Today, the company processes more than 11 million transactions a day and over $80 billion a year. Big or small, each client enjoys the same benefits, a real person who will answer the phone anytime there's an issue and not hang up until it's resolved. The group started the morning with a brief overview of the Summit. Then they came together for a series of exercises to get to know one another. Many of them haven't met prior to the summit.
Heartland Donates Bikes to YMCA in Dallas.
Kent Raymer oversees the Plano, Texas office and along with Duane Greene the Technical Publications Manager they brought this summit together. We started the event in the morning and through a series of activities, clue solving, and teamwork, they built bikes. The Build-A-Bike reg; event teaches teamwork skills through a series of challenges which the teams are to complete. The tasks encourage the teams to think outside the box to come up with solutions. While they are learning to work efficiently as team employees were also having fun.
The overall lesson is that everyone works together to reach the same goal. The event was too early to have the children accept the bikes so before they broke for the day the charity representative and I went back to The Cascades Event Center. The representative with the YMCA spoke to the group about the organization. Then I introduced the children to the group, they were surprised as the kids came running in. Many photos taken, each team had a picture taken with the kid they built the bike for.
If you want information about how your team can organize a "charity team bike build" click this link. For a list of all of the team building events in Dallas, Texas, click here.
The kids were riding their new bikes around the room, enjoying snacks and some of the parents of the children came to the event and there were some tears as the parents thanked them for the new bikes.