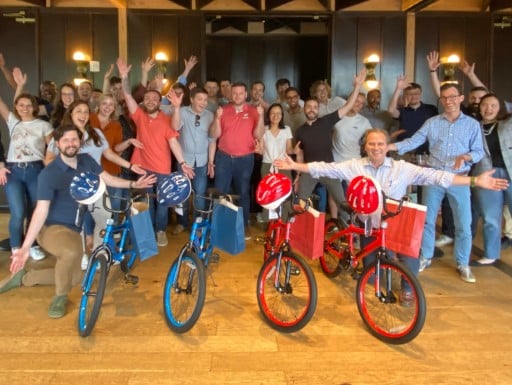 The Tax Foundation, a prominent nonprofit tax policy research organization, recently attended a Build-A-Bike® event at District Winery in Washington, DC. Gathering 32 team members, including those traveling internationally, this event was a testament to collaboration, community engagement, and fun. The event was organized seamlessly with assistance from Rex and Regina Events, ensuring a smooth and enjoyable experience for all.
Need help organizing a large event? Let The Leaders Institute help! Get in touch with one of our expert instructors today.
Since 1937, The Tax Foundation has stood as a leading independent research body focusing on insightful and principled tax policy analysis at the federal, state, and local levels. Through engaged experts and comprehensive research, they influence smarter tax policy, reflecting their commitment to improving governmental fiscal policies.
The Tax Foundation's Unifying Build-A-Bike® Event in Washington, DC
Held at the elegant District Winery, The Tax Foundation's Build-A-Bike® event brought together 32 team members. In fact, half of them traveled from various locations, including international destinations. The collaborative spirit was palpable, with participants diving into the activity and sharing laughter within the first five minutes.
More than just a team-building exercise, this event served as an opportunity to give back to the community. The Tax Foundation partnered with the YMCA of Metropolitan Washington, aligning the team-building with a philanthropic cause.
Our heartfelt gratitude goes to The Tax Foundation for their commitment to both fostering internal collaboration and contributing to the local community. We also extend our thanks to the YMCA of Metropolitan Washington and Rex and Regina Events for their roles in making this event a success.
Are you looking to enhance your team's collaboration and make a positive impact in your community? Explore our team building games in Washington, DC, and let us help you create an unforgettable experience!