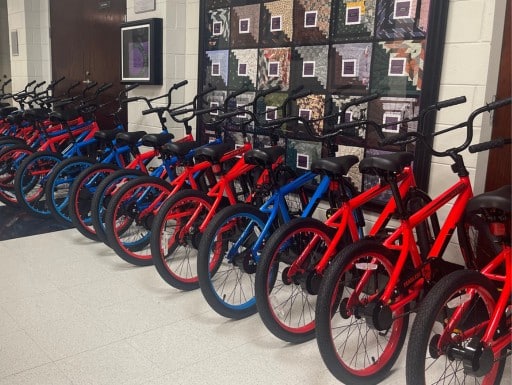 High Point University (HPU) attended a monumental Build-A-Bike® event in High Point, North Carolina. The event involved an astounding 1,500 freshmen students and was conducted over three sessions, each accommodating 500 students. This initiative was a part of HPU's community engagement program. All in all, the goal was to instill teamwork and community spirit among the new student body.
High Point University is a private institution located in High Point, North Carolina. Offering 63 undergraduate majors, 65 undergraduate minors, and 18 graduate majors, the university is a hub of academic opportunity. But HPU goes beyond academics; it emphasizes living a life of significance in addition to success. Through numerous service-learning courses, clubs, and community projects, HPU instills in its students the values of social responsibility and community engagement.
Freshmen at High Point University Come Together for a Grand Build-A-Bike® Event in High Point, North Carolina
The Build-A-Bike® event was nothing short of remarkable, with 1,500 freshmen participating across three distinct sessions. This was a significant undertaking for HPU and represented one of the largest team-building events the university has hosted. Integrated as part of their community engagement program, the event was structured to welcome the new students. Additionally, it served to get them instantly involved in the HPU community spirit. It was an unparalleled experience in teamwork and cooperation for the students, setting the tone for their years ahead at High Point University.
The event had a deep-rooted focus on community service, aligning with HPU's overall ethos. The bicycles assembled during this monumental team-building event served as an emblem of HPU's commitment to community engagement and social responsibility. Given that the students were just starting their journey at HPU, the event not only introduced them to teamwork but also to the culture of giving that is an integral part of the High Point University experience.
We extend our heartfelt gratitude to High Point University for integrating our Build-A-Bike® event into their community engagement program. Their dedication to not only academic excellence but also to social responsibility is truly commendable.
Starting university and want to make an immediate impact in your community? Consider launching your academic year with one of our charity team building events in High Point, North Carolina!