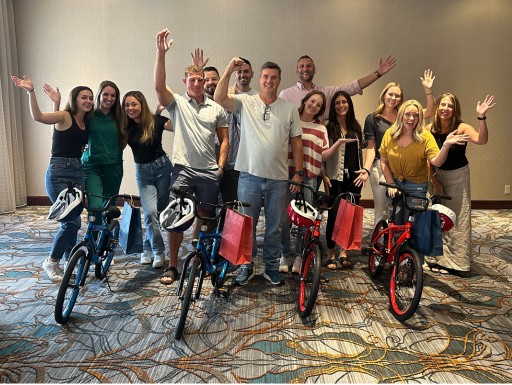 Boston Scientific assembled in Kansas City, Missouri, for a Build-A-Bike® event. This specialized session was geared towards their sales team focusing on spine devices. Consisting of 20 team members from the surrounding area, the event was part of a half-day training meeting. All in all, the goal was to strengthen team unity while making a positive impact on the community. Additionally, the team partnered with Big Brother Big Sisters as their charity of choice.
Boston Scientific is a healthcare solutions provider that operates across 100+ countries. The company is committed to solving some of healthcare's most pressing challenges. They do this by offering innovative solutions that benefit both patients and healthcare professionals. By focusing on reducing costs, increasing efficiencies, and expanding access to care, Boston Scientific aims to help people around the world live longer, healthier lives.
Boston Scientific Sales Team Engages in Build-A-Bike® Event in Kansas City, Missouri
The Build-A-Bike® initiative served as an enriching team-building exercise for Boston Scientific's sales team, who specialize in spine devices. Hailing from various locations around the area, the team members converged at the Kansas City Downtown Marriott. They gathered for a half-day of training and team reinforcement. Consequently, this exercise allowed them to deepen their connections. The event helped them fortify the spirit of collaboration, crucial in their role of providing life-changing healthcare solutions.
The event went beyond team-building, thanks to the partnership with Big Brother Big Sisters. After they assembled the bikes, they donated the bikes to the charity and demonstrated their commitment to community engagement. This gave the sales team, who already work to improve the lives of those suffering from chronic back pain, an additional avenue to contribute positively to the community. The heartfelt endeavor resonated deeply with all participants, reinforcing the company's overarching mission to improve lives.
We extend our sincerest thanks to Boston Scientific for their involvement in our Build-A-Bike® event and for their donation to Big Brother Big Sisters. We also express our gratitude to Big Brother Big Sisters for their ongoing commitment to making a difference in the community.
Looking to add a meaningful dimension to your next corporate training event? Why not include one of our charity-focused team-building events in Kansas City, MO to make an impact both within your team and in the community? Contact us today!