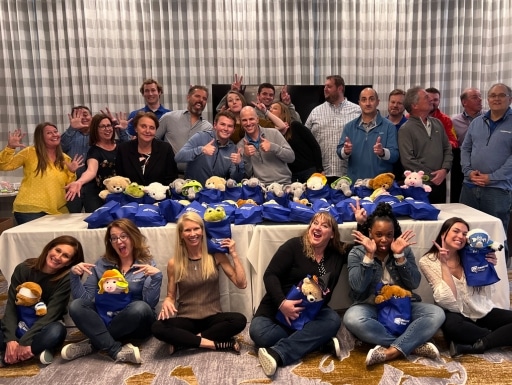 Global packaging solutions provider, Huhtamaki, organized a memorable Rescue Bear® team building event at The Ambassador Hotel in Kansas City, MO. The company combined team building with community support, impacting two local charities, Newhouse KC and the Boys & Girls Club.
Huhtamaki is a leading global provider of sustainable packaging solutions, enabling wellbeing and convenience for consumers worldwide. Their innovative products ensure hygiene, safety, and help prevent food waste. With a commitment to sustainability, Huhtamaki is on a mission to achieve carbon-neutral production. Their plan is to design all their products to be recyclable, compostable, or reusable by 2030. Founded over a century ago, the company operates in 37 countries and boasts a team of over 19,000 employees guided by their values – Care, Dare, Deliver. In 2021, Huhtamaki achieved a net sales total of EUR 3.6 billion.
Huhtamaki Conducts Rescue Bear® Event in Kansas City, Missouri
Huhtamaki hosted a successful Rescue Bear® event at The Ambassador Hotel in Kansas City, MO. The event was not only an opportunity for team building and bonding among the 35 participants, but also a chance for them to engage in a meaningful community service. The participants demonstrated Huhtamaki's core values of Care, Dare, and Deliver throughout the event, reinforcing the company's commitment to making a positive difference. The company's efforts brought joy and support to those in need, in line with their corporate social responsibility goals.
We extend our heartfelt thanks to Huhtamaki for their active participation and dedication during the Rescue Bear® event. We also extend our thanks to Newhouse KC and the Boys & Girls Club for their vital work in the community.
Looking for a unique team building experience in Kansas City, MO that also contributes positively to your community? Contact us to plan your own team building charity event today!