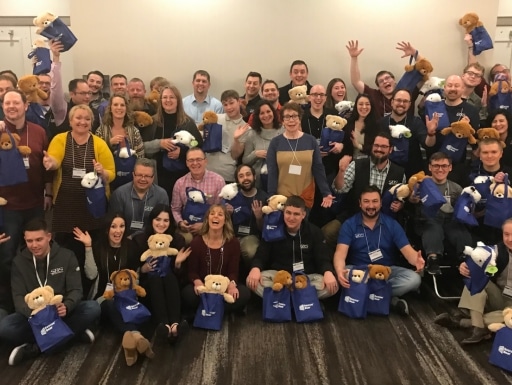 SBS CyberSecurity hosted a heartwarming Rescue Bear® team building event in Kansas City, MO. In this collaborative team building activity, the team created a meaningful impact for their community. Representatives from Ronald McDonald House of Kansas City were in attendance to collect the brand new teddy bears.
SBS CyberSecurity, LLC (SBS) is a premier firm specializing in cybersecurity consulting and audit services. Since its inception in 2004, SBS has dedicated itself to helping organizations develop robust risk management programs and mitigating cybersecurity risks. SBS provides tailored solutions for over 1,300 organizations globally, including financial institutions of various sizes. Its comprehensive services include cybersecurity risk management software, consulting services, network security, IT audit, and education. Additionally, they enable their clients to make informed security decisions and ensure data safety.
SBS CyberSecurity Hosts Rescue Bear® Event in Kansas City, Missouri
At the Kansas City Marriott Country Club Plaza, the SBS CyberSecurity team came together for a unique and impactful Rescue Bear® event. The event combined teamwork and fun, as the group bonded over assembling teddy bears for charity. It highlighted the team's unity, collaborative spirit, and dedication to the community – all of which aligns with SBS CyberSecurity's core values. The fruits of this collaborative event were directed towards the Ronald McDonald House of Kansas City.
We extend our sincere gratitude to SBS CyberSecurity for their active participation and significant contributions during the Rescue Bear® event. A special thanks also goes out to the Ronald McDonald House of Kansas City for the invaluable work they do in the community.
Want to try a unique team building event in Kansas City, MO?. Get in touch with us today and we'll help you plan your own charity event!