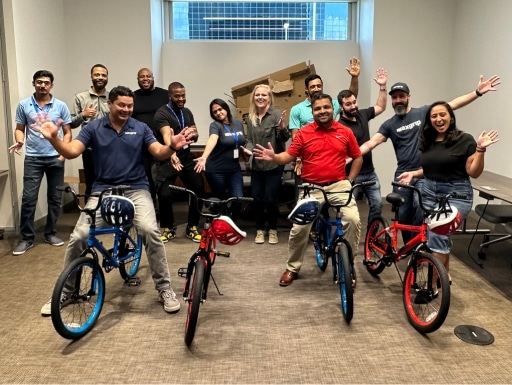 MaxGrip, an internationally renowned consultancy firm in Asset Performance Management (APM), participated in a Build-A-Bike® team building event in Houston, TX. Comprised of a close-knit team, most of whom have only been on staff for a year, the group displayed an excellent dynamic during this fun and engaging event.
With a 25-year history that originated in the Netherlands, MaxGrip has become a trusted advisor in Asset Performance Management. All in all, their service is in offering expertise in maintenance and integrity management. They assist market leaders across various industries, including Manufacturing, FMCG, Pharmaceuticals, Power Generation & Distribution, and more. MaxGrip helps resolve the asset management challenges of today and tomorrow.
MaxGrip employees participate in a Build-A-Bike® event in Houston, Texas
The Build-A-Bike® event brought the MaxGrip team together, emphasizing their impressive team dynamic and problem-solving abilities. Despite most members being new to the company, the close-knit nature of the group was evident. The event provided a platform for these logical, analytical minds to work together, challenging their collective problem-solving abilities during various aspects of the event.
The benefits from this team-building effort will undoubtedly ripple through the wider community. The bikes assembled during the event are expected to brighten the lives of many children, further emphasizing MaxGrip's commitment to not just corporate growth, but community involvement as well.
A huge thank you to MaxGrip for taking part in our Build-A-Bike® event. Your involvement goes a long way in making a difference in the community, and we appreciate your commitment and effort.
Is your team ready for a challenging and fun bonding experience? Explore our team building games in Houston, TX, and contribute to a great cause while strengthening your team dynamics!