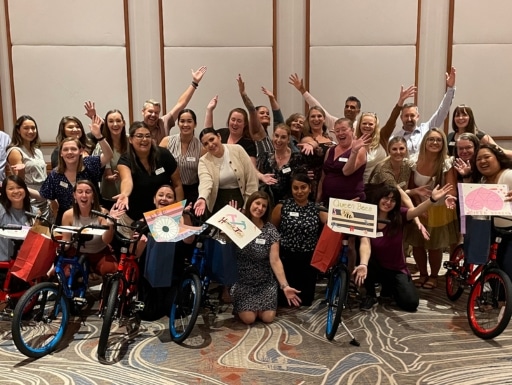 Paradigm Clinical Research, a prominent clinical research site business, participated in an engaging and heartwarming Build-A-Bike® event in Scottsdale, AZ. The event concluded their annual meeting on a high note as the team of research scientists built six bikes for children associated with the Valley of the Sun YMCA.
Paradigm Clinical Research is a clinical research site business that operates wholly-owned sites. These sites provide their client sponsors with access to diverse and often under-represented patient populations and investigators. Additionally, Paradigm's unique position allows them to deliver superior value by continually lowering barriers to study participation for patients and investigators. Their mission is to enrich the lives of those they serve by offering opportunities to advance the human condition. They seek to do this through participation in brilliantly executed clinical trials. As an employer of choice, Paradigm actively encourages and supports professional growth, offers a market-leading benefits package, and promotes a winning culture.
Paradigm Clinical Research's Impactful Build-A-Bike® Event in Scottsdale, Arizona
The Paradigm Clinical Research team, comprised of 30 research scientists, concluded their first full day at their annual meeting with a surprise team-building event. Participants built six bikes, turning the team meeting into an occasion of giving and joy. The event not only fostered team bonding but also added an element of social responsibility to their gathering.
In a heartwarming conclusion to the event, children from the Valley of the Sun YMCA were brought in to receive the bikes. The kids, who had no idea why they were being brought to the hotel, were pleasantly surprised. One boy who thought he was going to compete in a Beyblade competition ended up with a brand-new bike instead. This surprise element added a wonderful sense of warmth and fulfillment to the event.
We express our profound gratitude to the team at Paradigm Clinical Research for their enthusiastic participation in the Build-A-Bike® event. Their effort truly made a difference. We also extend our thanks to Valley of the Sun YMCA. We thank them for their cooperation in bringing such joy to the occasion.
If you're looking for a unique and meaningful team-building activity, consider one of our team building games in Scottsdale, AZ!. Not only will your team grow stronger, but you'll also bring joy to the community.