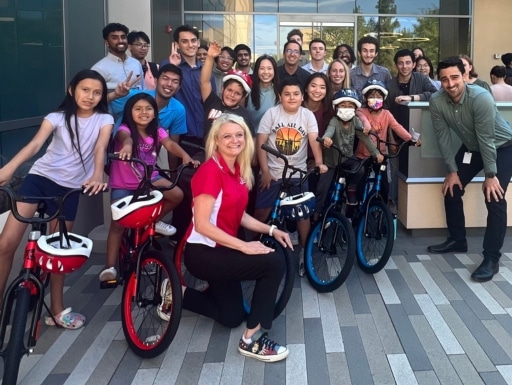 MicroVention, a medical device company specializing in neuroendovascular technologies, hosted an impactful Build-A-Bike® event in Aliso Viejo, CA. The event served as a team-building activity for new interns. It concluded with an impactful donation of bikes to underprivileged youth from the Boys and Girls Clubs of Capistrano Valley.
Founded over two decades ago, MicroVention has rapidly grown into a pioneer in catheter-based, minimally invasive, neuroendovascular technologies. The company has been at the forefront of innovation, delivering therapeutic advantages for neurovascular disorders. Since launching their First Generation HydroCoil™ embolic system in 2003, they've expanded their reach to every corner of the neuroendovascular industry. By January 2020, they held more FDA Premarket Approvals (PMA) than any other company in their industry. Thus illustrating their commitment to developing and manufacturing high-quality products for customers and patients. At the heart of their operations lies a strong focus on clinical research and R&D. Ultimately, this ensures they can respond quickly to customer needs and advance therapeutic modalities. Above all, MicroVention strives to make a meaningful improvement in patient lives through the development and commercialization of innovative endovascular technologies.
MicroVention's Inspiring Build-A-Bike® Event in Aliso Viejo, California
The MicroVention interns had an incredible time working together to make an impactful contribution to their community. As the newbies at MicroVention, they built not only bikes but also relationships. All in all, they leanred more about each other and fostered a culture of teamwork and camaraderie.
In a surprise ending that amplified the joy and excitement of the event, underprivileged children from the local Boys and Girls Clubs of America Capistrano Valley attended to receive the bikes. The disbelief on the children's faces, who had not expected to be gifted bikes, was priceless and made the entire event incredibly rewarding for the participating interns.
We extend our heartfelt thanks to MicroVention and their interns for their participation in the Build-A-Bike® event, turning it into an inspiring day of giving back. We also appreciate the Boys and Girls Clubs of America Capistrano Valley for their collaboration and for making it possible to bring joy to the children in their care.
Is your company looking for a team-building event that also benefits the local community? Our team building events in Aliso Viejo, CA, offer an opportunity to foster teamwork while making a positive impact. Get in touch with us today!