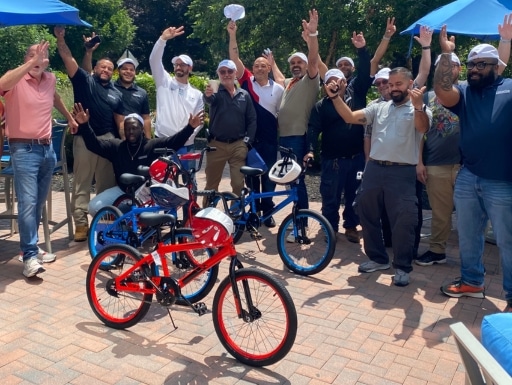 Greystar, a global real estate company, took part in a memorable Build-A-Bike® event in Morristown, NJ. Known for their high energy and lightheartedness, the team ended their day-long meeting on a high note, giving their time and effort to make a meaningful impact on the community.
Since its establishment in 1993, Greystar has provided top-tier service in the residential rental housing industry. By combining management, development, and investment disciplines of the rental housing industry at various levels, Greystar has seen record growth. Ultimately, they've become one of the most respected global real estate companies. Their business model includes both investment and service-oriented businesses. This allows them to maintain a constant presence in local markets and create value throughout the real estate cycle. Supported by a global team of over 20,000 employees, their executive team, boasts over 23 years of industry experience.
Greystar's High-Energy Build-A-Bike® Event in Morristown, New Jersey
The Build-A-Bike® event provided a fantastic platform for the enthusiastic Greystar team to showcase their high energy and lighthearted spirit. The event was the perfect conclusion to a day-long meeting, allowing the team to channel their energy towards a good cause and create a positive impact.
The bikes assembled by the Greystar team were donated to Homeless Solutions, a non-profit that strives to offer shelter, services, and supportive housing for homeless and low-income people. This contribution symbolizes Greystar's commitment to not only excel in the real estate sector but also contribute meaningfully to their communities.
We'd like to express our heartfelt gratitude to the team at Greystar for participating in our Build-A-Bike® event. Your energy and dedication made a real difference. Also, our thanks to Homeless Solutions for their continued efforts in serving the community.
Are you looking for a fun and impactful team building activity? Check out our full list of team building events in Morristown, NJ! Together, we can strengthen your team and make a difference in our community.