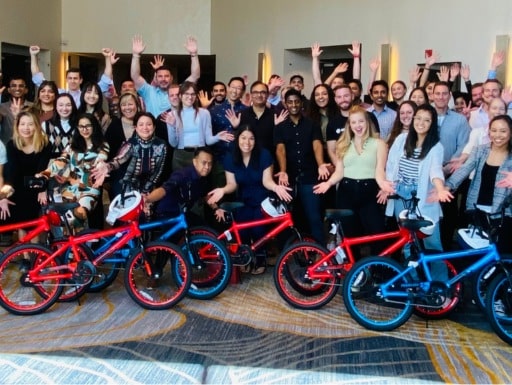 Observe.AI, a leader in live conversation intelligence, recently maximized their output in a team-building game in the Bay Area, CA. The company united its international workforce for a two-day summit and ended it with a Build-A-Bike®. Throughout the event, the core values of Observe.AI took center stage. All in all, their efforts showcased the company's dedication to both community and corporate culture.
Observe.AI sets the industry benchmark with its cutting-edge live conversation intelligence platform, powered by a 30 billion-parameter contact center LLM and a highly accurate Generative AI engine. By deriving insights from every customer interaction, it propels frontline performance and drives tangible business outcomes. Esteemed partners like Accolade, Pearson, Public Storage, and 2U stand testimony to the company's unparalleled capability in maximizing sales, retention, and compliance outcomes.
Artificial Intelligence Company Gathers for Build-A-Bike® in the Bay Area, California
70 representatives from Observe.AI met for their summit at the Grand Bay Hotel. The diversity of the attendees, stemming from different parts of the world, added a unique flair to the gathering. Indeed, it brought a mosaic of cultural experiences and perspectives.
The group enthusiastically dove into the Build-A-Bike® activity once they gathered. As teams collaborated to assemble bicycles, Observe.AI's core values – We, Own, Grit, Agile, and Customer First – became the foundation of their teamwork. This thoughtful addition not only made the activity more meaningful. It also allowed participants to internalize and reflect upon the company's ethos in a fun and engaging manner.
In line with their commitment to the community, the assembled bicycles were donated to CASA of San Mateo County. This organization is dedicated to supporting children and youth in foster care. The event emphasized the company's core belief in giving back, strengthening its ties to the local community.
Kudos to Observe.AI for organizing an event that seamlessly merged team-building with corporate values, all while contributing to a noble cause.
Looking for an event that combines fun, team-building, and a reflection of your company's core values? Check out our full list of charity team building games in the Bay Area, CA!