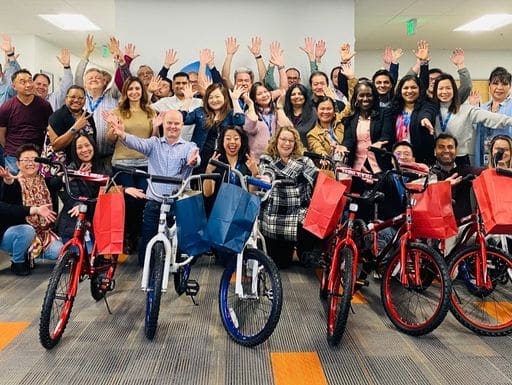 This last winter wasn't easy for residents of Hayward, CA. Alameda County and the Bay Area have been battered with storms, flooding, power outages, and rockslides. On top of it all, their under-resourced areas are still suffering from the results of the pandemic. Otsuka America Pharmaceutical, Inc. wanted to do their part in helping the community. So they got together for a Build-A-Bike® charity team-building event at their office.
Otsuka America Pharmaceutical, Inc. (OAPI) is one of the many companies under the parent of Otsuka America, Inc. (OAI). OAI focuses on serving those with unmet medical needs through innovative products that enhance the health and well-being of their patients. Their mission is to create new products for better health worldwide, which they seek to embody in three main fields: neurology, nephrology, and digital technology.
Pharmaceutical Team Builds Bikes for Kids in Hayward, California.
At noon, the sixty employees got together for lunch before tackling the task of building bicycles. They didn't treat it as just any simple task, either. The team members chosen to be judges were getting very into character. In fact, they began running the event as if it were their own bicycle store. They took care handing out bike parts and ensured everyone did their part to keep the "store" operating smoothly.
"Please keep the store entrance CLEAR, thank you!" one judge could be heard saying whenever the area got too crowded.
With the judges' leadership and organization, the OAPI "bike store" was highly efficient, building eight new bikes in a single noon session. The group donated the bicycles to the Eden Youth and Family Center. The bikes will soon find themselves in the hands of eight lucky children!
Big thanks to Otsuka America Pharmaceutical, Inc. for turning an average Tuesday into a memorable event to benefit the kids of Hayward!