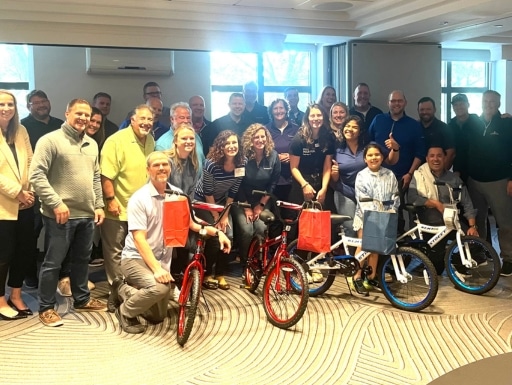 Protective Life organized a Build-A-Bike® team building event in Chicago, IL. With a group of 35 participants, the event served as a fun and engaging way to bring together the summer sales team. The event aimed to foster camaraderie and provide a memorable end to their business meeting. The YMCA was the chosen charity for the event, aligning with Protective Life's commitment to supporting communities.
Protective Life is a leading provider of life insurance, asset protection, and retirement products, offering financial security and peace of mind to individuals and families. With a legacy of over 110 years, Protective Life has been protecting people's lives and providing innovative insurance solutions. Their comprehensive range of products and resources helps individuals make informed decisions about their insurance needs. Protective Life believes that everyone deserves a sense of security and freedom. Most of all, they are dedicated to delivering on that promise.
Protective Life's summer sales team unites through a memorable Build-A-Bike® event in Chicago, Illinois
Hosted at the Marriott Chicago O'Hare Suites, the event aimed to create a sense of togetherness and provide a fun way to end their business meeting. The participants eagerly embraced the opportunity to collaborate, bond, and strengthen their relationships as a team.
The event not only served as a team-building exercise but also had a positive impact on the local community. The bikes assembled during the event were donated to the YMCA, aligning with Protective Life's commitment to giving back. By supporting the YMCA, the participants not only enjoyed a memorable experience but also contributed to a worthy cause. The event brought smiles, laughter, and a shared sense of accomplishment among the team members.
We extend our sincere thanks to Protective Life for their contribution to the community. We also give a big thanks to the YMCA for their invaluable work in providing programs and services to the community.
Want to give back to the community while boosting your team's morale? Try one of our team building games in Chicago, IL!