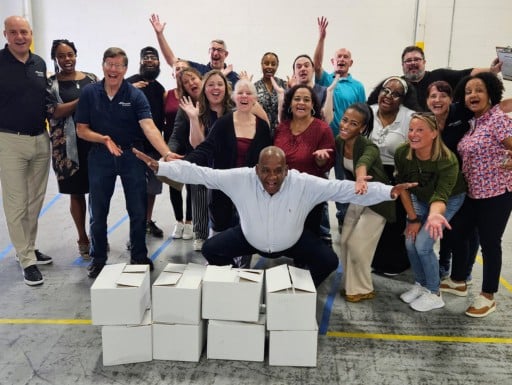 Purolator Inc. championed an Amazing Builders event at their International branch located in Norristown, PA. Bringing together a diverse group of employees from almost all departments, the aim was to offer a lively, light-hearted treat. Within the echoing confines of a vast warehouse, the atmosphere charged with enthusiasm made the event resonantly memorable.
Purolator Inc. stands as Canada's premier integrated freight, parcel, and logistics solutions provider. With a legacy spanning over half a century, Purolator has steadfastly delivered on its customers' promises. Their commitment to sustainable growth is only rivaled by their dedication to the communities they serve, where their remarkable team of over 11,500 members reside and thrive.
Purolator Inc. Embarks on an Amazing Builders Challenge in Norristown, Pennsylvania
The Amazing Builders event at Purolator International was more than just a team-building exercise; it was a celebration of camaraderie and unity. The diverse representation of employees ensured a rich blend of skills and perspectives, making the challenges even more intriguing. Laughter and cheers reverberated throughout the spacious warehouse, amplifying the energy and spirit of the day. Participants navigated a series of obstacles, collaborating and strategizing in unison, truly embodying the ethos of team effort.
The euphoria of the day converged towards a noble cause. Upon the culmination of the event, items collected during the obstacle race were thoughtfully assembled into backpacks replete with school supplies. These were then generously donated to the Ronald McDonald House of Philadelphia. This gesture was not only an embodiment of Purolator's commitment to community service but also showcased their dedication to enriching the lives of those in need.
We are immensely grateful to Purolator Inc. for orchestrating such a vibrant event and for their magnanimous contribution to the Ronald McDonald House of Philadelphia. Their efforts undoubtedly illuminated the lives of many, echoing their ethos of community care and commitment.
In search of a vibrant, team-building experience with a heartwarming twist? Dive into one of our signature team building events in Norristown, PA, and make a difference!