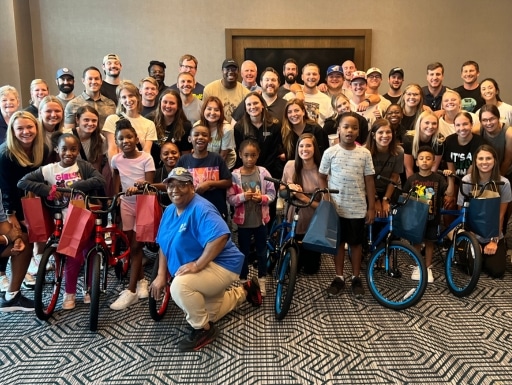 Retail Sports Marketing, a consumer promotion and brand marketing organization, recently participated in a memorable Build-A-Bike® event in Charlotte, NC. Additionally, the event's best moment was a generous donation to The Salvation Army Boys & Girls Clubs of Greater Charlotte, leading to emotional moments and a positive impact.
Retail Sports Marketing is a dynamic organization specializing in customer promotion and brand marketing. Their main focus is on creating strategic sports and lifestyle marketing assets that yield high return on investment. This is done through the development and execution of integrated marketing programs at retail, wholesale, and beyond. Their unique approach combines creativity with strategic planning to drive engagement and customer satisfaction.
Retail Sports Marketing's Impactful Build-A-Bike® Event in Charlotte, North Carolina
Retail Sports Marketing decided to take their event up a notch by making it a Build-A-Bike®. Ultimately, this was not just an opportunity for the team to come together and strengthen their relationships but also a platform to make a difference in their local community.
The event's climax was a significant donation to The Salvation Army Boys & Girls Clubs of Greater Charlotte. The company generously donated bicycles, $2,500, and six $100 gift cards for the children's families. The kids arrived to the event, leading to emotional scenes as they gratefully accepted the unexpected gifts. All in all, the heartwarming moments left a lasting impression on the team, making the event even more meaningful.
Our sincerest gratitude goes out to Retail Sports Marketing for their impactful participation in the Build-A-Bike® event, demonstrating the incredible power of giving. We also thank The Salvation Army Boys & Girls Clubs of Greater Charlotte for their indispensable role in helping us bring joy and assistance to the children and their families.
Our charity team building games in Charlotte, NC provide the perfect opportunity for impactful team building and community outreach. Contact us today to learn more!