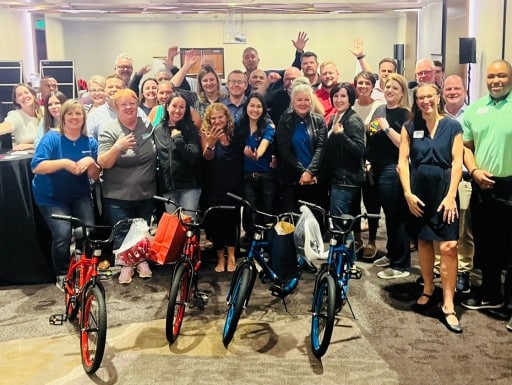 Novo Nordisk, a global leader in healthcare solutions, attended a Build-A-Bike® event in Durham, NC. The event was a segment of a larger team meeting, intended to facilitate a sense of unity among employees. The atmosphere was especially heartwarming at the end.  Representatives from the Boys & Girls Club, along with the children, made their appearance at the event.
Novo Nordisk is a healthcare giant founded in 1923, with its headquarters in Denmark. The company is committed to driving change to defeat serious chronic diseases like diabetes, obesity, and rare blood and endocrine disorders. Employing approximately 54,400 people across 80 countries, Novo Nordisk continues to pioneer scientific innovations, expand accessibility to medicines, and strive towards the prevention and eventual cure of diseases.
Novo Nordisk Employees Come Together for Build-A-Bike® in Durham, North Carolina
At the Novo Nordisk team meeting in Durham, the Build-A-Bike® segment was more than just a game; it was an experience in teamwork and empathy. This event allowed employees to break away from routine meetings and conference calls, offering them an avenue to build stronger relationships with one another. The focus was on creating a dynamic and inclusive environment for all participants.
The Build-A-Bike® activity reached its emotional peak when the Boys & Girls Club arrived with the children who would be the recipients of the assembled bicycles. This unexpected turn infused the room with renewed energy and purpose. As employees of a healthcare company committed to making a difference in the lives of individuals suffering from chronic diseases, the act of providing a bike to a child in need had a particular resonance with the Novo Nordisk team.
We extend our heartfelt thanks to Novo Nordisk for their meaningful contributions to the Boys & Girls Club. The bikes will undoubtedly bring joy and mobility to children in the community. We also want to express our gratitude to the Boys & Girls Club for their ongoing commitment to supporting underprivileged children.
Are you planning a team meeting and looking for an impactful and memorable team-building activity? Our charity team building events in Durham, NC are the perfect solution for companies like yours who want to make a real difference. Contact us today!