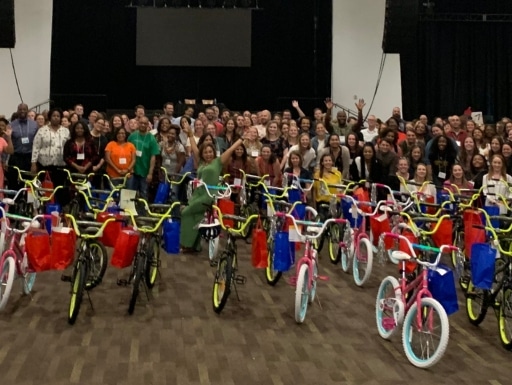 The New Teacher Project (TNTP) recently participated in a Build-A-Bike® team building game in Las Vegas, NV. With 250 participants, the event culminated in the donation of 50 assembled bikes. All in all, TNTP donated the newly built bikes to children associated with the Boys & Girls Club of Southern Nevada.
A group of teachers founded The New Teacher Project in 1997. They work diligently to ensure all children have access to an excellent education in public schools. TNTP operates at all levels of the public education system to attract and train talented teachers and school leaders, create engaging classrooms, and foster environments that prioritize quality teaching and accelerated student learning.
The New Teacher Project Hosts Build-A-Bike® Event in Las Vegas, Nevada
The Build-A-Bike® event was a key highlight of The New Teacher Project's national conference in Las Vegas. Held at the M Resort, the event brought together about 250 participants in a team building exercise that resonated with TNTP's mission to prioritize education and growth. The assembled bicycles served as physical representations of TNTP's dedication to fostering a brighter, more accessible future for young students.
Participants worked in teams to assemble a total of 50 Huffy bikes, which were then donated to local elementary school students through the Boys & Girls Club of Southern Nevada. This gesture of goodwill perfectly encapsulated the spirit of the event – promoting teamwork while making a positive impact on the local community.
We extend our deepest thanks to The New Teacher Project for their participation and commendable contribution to the local community. We also appreciate the Boys & Girls Club of Southern Nevada for facilitating the donation and supporting this impactful event.
Planning your next conference or team gathering? Add a touch of social responsibility and teamwork with one of our charity team building events in Las Vegas, NV!