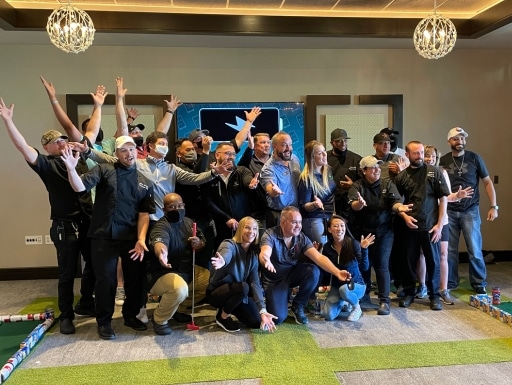 Topgolf, the global leader in golf entertainment, participated in a unique Ace Race event in Las Vegas, NV. The team-building event saw the executive food and beverage team come together. The purpose? To design and compete on a miniature golf course from non-perishable food items! Afterwards, the Topgolf team donated the food to a local charity, The Just One Project.
Topgolf is redefining the game of golf. With their industry-leading Toptracer technology, innovative mobile games, and an array of global venues, Topgolf is transforming the way players experience the sport. Besides tech-driven games, they offer a top-tier food and drink menu, creating a playful atmosphere for all. Simply put, Topgolf is the ultimate destination for those seeking an interactive golf experience with a fun twist.
Topgolf's Innovative Ace Race Event in Las Vegas, Nevada
The Ace Race team-building event brought together Topgolf's executive food and beverage team in an exciting and creative challenge. They met in the Central meeting room of Topgolf in Las Vegas. Then, the team used non-perishable food items to build a miniature golf course. The activity provided a unique twist on team bonding, showcasing their creativity and collaborative spirit while staying true to the essence of their work in the golf industry.
The end of the event was not the end of the impact. All the non-perishable food items used to create the golf course were donated to The Just One Project, a local Las Vegas charity. Naturally, this added an extra layer of satisfaction for the team. They know their team-building exercise also contributed to a meaningful cause in their community.
We would like to express our heartfelt thanks to Topgolf's executive food and beverage team for their enthusiastic participation in the Ace Race event. Also, our sincere gratitude goes to The Just One Project for their invaluable work in the community and for helping make this event a success.
Looking for a non-typical and actually fun way to build your team? Want to contribute to charity at the same time? If so, check out our full list of charity team building games in Las Vegas, NV!