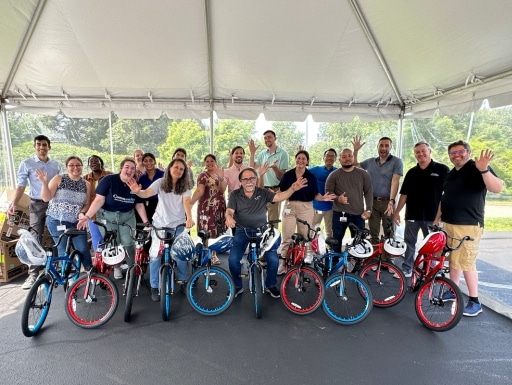 Boston Scientific, a global developer of medical solutions, held an enthusiastic Build-A-Bike® event in Marlborough, MA. Their engineering team came together to build bikes, foster stronger team bonds, and give back to the community.
Boston Scientific is a healthcare industry leader. They dedicate themselves to making solutions for debilitating and life-threatening conditions. The company's mission is to improve patient care worldwide by reducing costs, increasing efficiencies, and expanding access to healthcare. Operating in over 100 countries, Boston Scientific strives to enable healthcare providers to help more people live longer, healthier lives in more places.
Boston Scientific's Engaging Build-A-Bike® Event in Marlborough, Massachusetts
Boston Scientific's urology product development engineering team gathered for a unique team-building experience – a Build-A-Bike® event. Held under a tent in the company's parking lot, the event was full of energy and enthusiasm. Additionally, the team gave it their all as they worked together to assemble bikes. Not only did it serve as a fun and interactive way for team members to bond, but it also underlined the company's commitment to corporate social responsibility.
The excitement of the event was heightened by the charity aspect. Undoubtedly, the team worked harder knowing their contributions would go to the Boys and Girls Club of Marlboro. It was a heartfelt moment for the team, knowing their collective effort would bring joy and utility to young people in their community.
We extend our thanks to the Boston Scientific team for their dynamic participation in the Build-A-Bike® event, and to the Boys and Girls Club of Marlboro for facilitating this worthy cause. All in all, your joint efforts have made a significant impact on the local community.
If your team is seeking a fun, interactive, and impactful team-building activity, consider our Build-A-Bike® events. Contact us today to learn more about our fun charity team building events in Massachusetts!