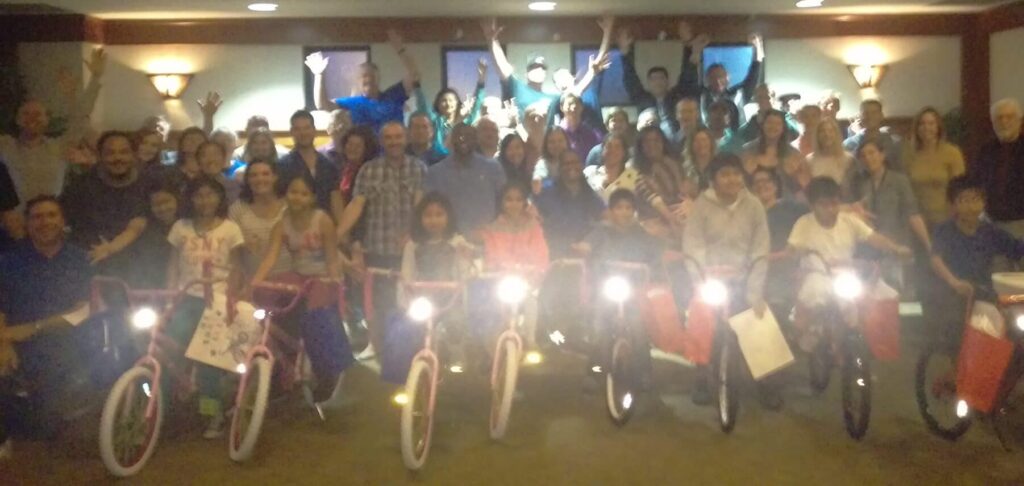 ViaSat has worked with The Leader's Institute ® two previous times in 2015, where they participated in Camaraderie Quest team scavenger hunts. They decided to do one more event in 2015 as a good way to end the year. The goal was to have fun and give back to the community, so they chose to do a Build-A-Bike ® team building event in Carlsbad, CA near San Diego.
This was an exceptionally high energy group that came in ready to have fun! Teams had to work together to solve clues. Once they had a correct clue, they earned a part to the bike. When the bikes were completed, Los Angeles based instructor Chris McNeany did a safety check on the bikes.
The Magdalena Ecke Family YMCA graciously accepted the bike donation, and 6 very excited kids are now the proud owners of brand new bikes and helmets! The ViaSat Build-A-Bike ® went over as positive as the team scavenger events. After the event, the point of contact reported to us…
"I heard the team loved the recent Build-a-Bike ® event! I cannot wait to see pictures! I wanted to inquire with you about the mini-golf/service project team building." — ViaSat
If you want information about how your team can organize a "bike build for charity" click this link. For a list of all of the great team building in San Diego, click here.
This event was held on December 3 at The Crossings at Carlsbad, 5800 The Crossings Dr., Carlsbad, CA 92008.