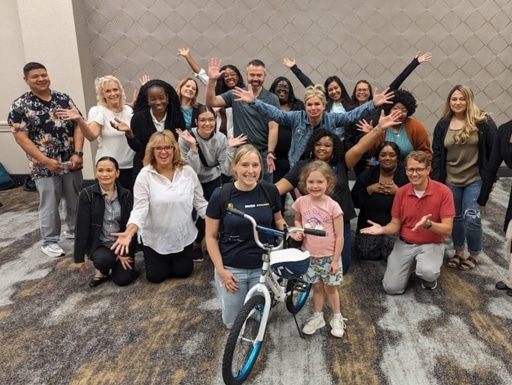 The team at DaVita, a leading provider of dialysis services, participated in a Build-A-Bike® team-building event in Arlington, TX. This event formed part of DaVita's annual meeting, which emphasized their core values of service excellence, integrity, teamwork, and more. Despite initial resistance to collaboration, the team soon realized the importance of working together and ended the day with a touching interaction with the children from HopeKids.
Adopting an Italian name meaning "giving life", DaVita strives to live up to this promise every day, providing life-giving dialysis treatment to its patients. DaVita's mission emphasizes being the Provider, Partner, and Employer of Choice, building the greatest health care community in the world, and focusing on core values like Service Excellence, Integrity, Teamwork, Continuous Improvement, Accountability, Fulfillment, and Fun. At DaVita, the community comes first, encouraging their team to bring their hearts to work, caring for colleagues as they do for their patients.
DaVita Team Members Collaborate for Build-A-Bike® Event in Arlington, Texas
The Build-A-Bike® event added an unexpected and delightful twist to DaVita's annual meeting. Starting with a spirited cheer contest, the DaVita team initially found it challenging to shift from competition to cooperation. However, once they grasped the value of collaboration, they rapidly solved their puzzles and efficiently gathered the necessary components to build their bikes.
The real sense of accomplishment came when the team "Twosome We're Awesome" completed their bike, closely followed by the rest of the groups. Yet, the highlight of the event was the heartwarming moment when children from HopeKids arrived to receive the bikes. The sight of these children benefiting from their hard work moved the DaVita team deeply, making it an unforgettable experience.
We express our deepest gratitude to DaVita for their enthusiastic participation in the event and for their generous contribution to HopeKids. We also extend our thanks to HopeKids for their ongoing work to support children in need.
Is your team planning an annual meeting in Arlington, TX? Include one of our exciting team-building games in Arlington, TX and watch your team's collaborative skills grow!