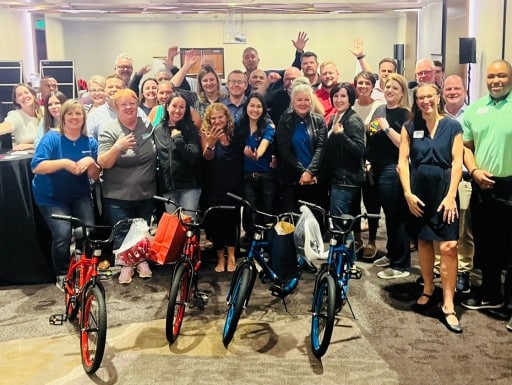 Emerus, a pioneering micro-hospital operator in the United States, held a memorable Build-A-Bike® event at The Statler in Dallas. Featuring 34 dynamic leaders from various sectors, the event aimed to foster team spirit and make a positive impact. Momentous Institute, an organization focused on improving children's mental health, was the charity partner for this incredible day.
Emerus operates with the mission of bringing accessible, patient-centric health care to underserved communities. The company partners with renowned health systems across the nation to provide acute episodic and ambulatory clinical services that focus on patient well-being. Through their network of micro-hospitals, Emerus ensures excellence, empathy, and innovation in patient care. They offer a unique approach that separates them from conventional healthcare facilities.
Emerus' Inspiring Build-A-Bike® Event in Dallas, Texas
The Build-A-Bike® event was not only an opportunity for team building among Emerus leaders. It also was a chance for them to give back to the community. In a spirited atmosphere, participants engaged in friendly competitions to win bike parts. The event's highlight was the joy and enthusiasm each leader showed while assembling bikes. What made this endeavor even more special was knowing that the assembled bikes would be donated to children at the Momentous Institute.
Momentous Institute focuses on mental health services for children. This makes them a fitting partner for an event hosted by a healthcare leader like Emerus. As each bike was completed, the participants knew they were contributing to a larger cause. That is, helping children at Momentous Institute find a sense of freedom and happiness through their first set of wheels! The day was an emotional roller-coaster, filled with laughter and tears, ultimately reminding everyone that compassion and community involvement can indeed win the day.
We want to express our gratitude to all the participants from Emerus and to the Momentous Institute for allowing us to be a part of something so impactful. The success of this event is a testament to what can be achieved when a group of dedicated individuals comes together for a greater cause.
Interested in organizing a team-building event that also serves the community? Build-A-Bike® could be the perfect solution! Contact us today to learn more about our team building activities in Dallas, TX!