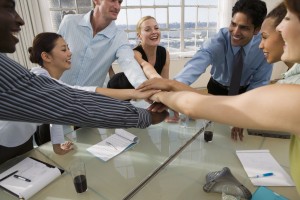 SUNY Downstate Medical Center hosted a Creating a Team Culture workshop in New York, New York for 55 of its Chief Residents recently. The Chief Residents are at the end of their residency programs and SUNY felt it would be important for them to have a leadership development day that included this workshop. SUNY Downstate Medical Center's history spans more than 130 years. It was the first medical school founded within a hospital, making bedside training an integral part of students' education.
The group of sleep-deprived Residents gathered with some skepticism about doing a workshop. They have very intense and demanding schedules, and expertise in their fields. Why did they need something like this to help them communicate better? I shared my own recent experience with Chief Residents with them, as my youngest son was recently hospitalized. Through the lessons illustrated by the story, they were able to see how paying closer attention to their communication strategies is not only helpful but is essential to their success as physicians.
SUNY Creates a Team Culture in New York.
We discussed four sets of Leadership Principles relating to improving communication and team culture. With each set of principles, there were exercises for the group to do that helped them interact with the principles and try them out. The first set of principles dealt with building trust and rapport, which is something this group was struggling with most. We also covered ways to manage conflict, gain cooperation, and build the team around you. As the workshop progressed, the level of interaction in the group rose steadily, and by the end, they were much more relaxed!
"These physicians needed this workshop to help them see their patients through the other side of the lens. If we change one person's thinking about how to communicate in the workplace, it was worth it." — Dr. Nagaraj Gabbur, SUNY Downstate Medical Center
Team building workshops done in a classroom don't have to be dull or lecture style. If your team is struggling with communication issues and wants to enjoy a seminar where they will get to interact with each other and share some laughs while still addressing core issues, include Creating a Team Culture in your plans.
If you want information about how your team can organize a "custom team building workshop" click this link. For a list of all of the team workshop in New York, click here.