How do team building activities help your company become one of the best places to work?  Fortune Magazine recently released its annual list of the 100 best workplaces and while the perks are nice, that's not what really motivates employees to do their best.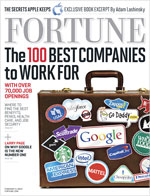 More and more decision makers are turning to charity team building workshops as a way of keeping employees engaged.  You might think that the best workplaces on the Fortune list have fantastic perks and lots of fun every day – and that's part of the formula.   Teresa Amabile, professor at Harvard Business School, and her research team analyzed nearly 12,000 work diaries from professionals in seven different companies.  "Sure, the techies at Google love the free gourmet food, and Zappos employees get a kick out of playing Nerf Dart war. But all of that misses the most important element of employee engagement: helping them succeed at work that matters."
Team building activities are an important tool for setting the tone with new employees and reinforcing the message to those with tenure.  Instead of reading about the company values in the employee handbook, the message is much more powerful when delivered in a team building workshop.  For example, Nestle Purina subscribes to the servant leadership model, so including team building activities like the Build-A-Bike ® where they can serve their local community is a natural fit as part of their meetings.
According to Amabile, "The single most important thing that can keep workers deeply, happily engaged on the job is moving forward on work they care about — even if the progress is an incremental 'small win.' Your bosses — and how they manage you — make all the difference."  When you have a quarterly or annual meeting it's a great opportunity to reinforce your corporate culture through interactive team building activities.
The best managers in the Harvard Business School study set clear goals and gave people autonomy in meeting those goals. As a result, their employees stayed committed, productive and creative. Top performers have to be clued into and bought into a shared vision in order for company results to remain strong.
Sure, cool perks are nice. But many businesses see an inspired workforce as key to creating a great place to work – they go hand-in-hand.  Consider adding team building activities to reinforce your corporate culture and engage your employees…and create a great place to work!
This article was written by Colette Johnston. Colette is a Corporate Team Building Consultant with The Leader's Institute ® headquartered out of Dallas Texas. You can reach Colette at 800-872-7830.